Surface Design Show 2015
10th - 12th February - Business Design Centre
Spectral Lighting is not only bending the rules in design but also in colours. Our new timeless pendant ring is so fresh that even we don't have a photograph to show you yet. We will unveil our brand new Stora LK, finished in Valencia orange, on stand LS340 at this year's Light School section of the Surface Design Show. We look forward to showing you our innovative lighting products over a refreshing glass of freshly squeezed Valencia orange juice.

Product Video Introductions
Jon Estell, Spectral UK Design Manager, talks about some of our latest products
Come and see us at Light and Build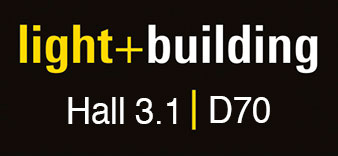 Videos from the Surface Design Show
Spectral Light School
Spectral will be exhibiting at the Surface Design Show at the London Design Centre, Islington from 4th - 6th February 2014. Spectral will also be participating in the Light School event. See you there.
Download the Spectral New Product 2014 Preview Binder
Sound Designs for the University of Bristol
The Victoria Rooms campus at the University of Bristol has recently installed a number of bespoke chandeliers, crafted using Spectral's H-PROFIL system. The period architecture of the building was previously lit by classic, candelabra style chandeliers that were highly decorative, however, inefficient in their energy consumption. Spectral's solution was to design tailor-made fittings that would provide both the required lumen levels and a sensitive aesthetic, suited to the building's décor and befitting its history.
Bespoke lamp of light for Mill Hill Synagogue
Mill Hill Synagogue in London has completed the construction of a new community centre to replace a pre-existing facility which had been outgrown by the 1,000 plus families that meet and use the site. The Ner Orre (lamp of light) Centre is a Farrow Silverton designed project that includes a custom made Spectral chandelier which illuminates the dome at the heart of the main function room.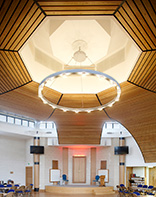 Spectral & BDP work together on new luminaire concepts
Spectral's project leader Benno Zimmer met with the chair of lighting at BDP, Mark Ridler, to investigate new luminaire concepts.
The meeting was covered by Lighting magazine for a feature in February's issue.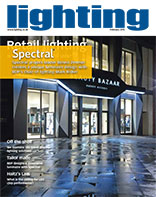 Spectral have supplied a fresh lighting installation based around the Iris suspended luminaire to the London Eye offices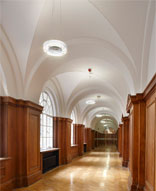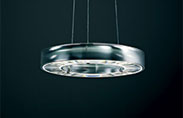 Spectral, central to the hub
IRIS, the circular T5 luminaire from Spectral is the perfect complement to the stylish and quirky interior environment of The Hub in Westminster. Almost 120 IRIS luminaires in a transparent finish have been installed in the various zones of The Hub, with the balanced up/downlight output ensuring an even, shadow-free light across all areas.